When you set up a new QuickBooks Online subscription (or if you've had one for a while) you'll be bombarded with all these options to add-on to your subscription. The truth is that you don't need the majority of these and just need to close them all out when you can.
But, I know that as a small business owner, when you are getting used to a new system and trying to figure everything out, you get nervous wondering what all you REALLY need. I'm going to try to break all that down for you below.
Banking Addons
QuickBooks Checking – You probably already have a checking account. My first recommendation is going to be say NO to this.
QuickBooks Capital – This is if you are looking for some sort of funding for your business.
PPP Center – This isn't a paid addon but they are still using this area to store all the resources/answers around PPPs.
Now, how do you get these off of your screen?
On the main left navigation menu, click the pencil next to Menu.

Now, uncheck Banking so you can remove that from your navigation bar.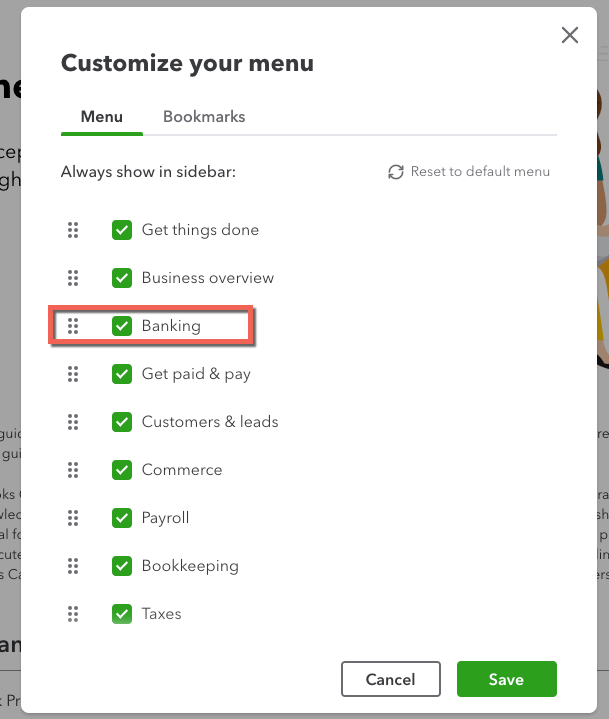 QuickBooks Payments
I am actually a fan of this. It makes it super easy to let your clients pay you by credit card or ACH. But, I would avoid paying the extra fee to get payments paid instantly. That just cuts into your profits even more. In general, you should expect to be paying about 3% on credit card transactions, so just build that into your pricing. If a client doesn't use a credit card, then you get a 3% bonus added to your bottom line.
Payroll Addons
I've never been a fan of QuickBooks' payroll options. You don't have to use one of their products. In fact, there are a lot of payroll providers that integrate with QuickBooks Online so you can still do everything you need to do but have a much better experience with a provider. Gusto (referral link) is one very popular solution among small business owners.
QuickBooks Time
If you need just basic time entry, then you can use the free time entry already available in your subscription. But, if you are looking at being able to track time on a mobile device, approve time entry, and do advanced project reporting, then maybe the add-on would be worth it. But, test out their free feature first to really see if you need more. There are also other apps that deal with time entry that might be cheaper and/or provide better features.
Workers Comp
This is insurance that most businesses need and I've usually gotten it for my clients through their payroll provider. So, whoever you use for payroll, check and see if they have Workers Comp coverage for you. You can also ask your local business insurance agent to see what they can provide.
1099 Filings
You can prepare your 1099s in QuickBooks Online, but I've always just used Tax1099. It is more flexible and has more forms available than just the 1099-MISC and 1099-NEC. Either way, you need to make sure you are properly entering your vendor information and the payments to them so that the information that is populated on the 1099 is correct. It is VERY easy to make mistakes here, so I would actually recommend getting help from an accountant on this one.